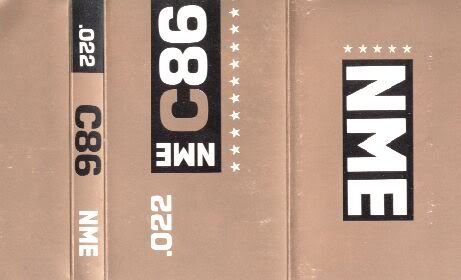 C86 is a genre of music. That and a famous
NME
(New Musical Express) cassette. The genre is indie. More precisely, it refers to mid to late 80s and early 90s British indie pop that was generally"twee" (think Scottish group Belle & Sebastian for definitive twee). Although most twee pop groups grow from C86, the C86 genre is arguably identified as jangle pop. This was a British movement, but there were many American and Canadian bands that were also c86 in all but location in the following years, like
Velocity Girl
(Which takes its name from an original C86 track) or
Jale
. The original movement is now almost as old as a lot of the people reading this, yet it still holds a place of importance in contemporary music beyond being mere reference fodder for indie elitists. Its pop-culture relevance has only become more apparent in the last year. Look for the influences of all those bands you or your little brother is rocking out to on the OC, and you'll invariably find yourself back at C86.
But wait, didn't I say something about a tape? You got me. C86 is literal abbreviation for Cassette 86, which refers to a tape given away with then 34 year old NME magazine in, unsurprisingly, 1986. NME was perhaps beginning to feel old and listless but, rather than focusing only on the biggest possible bands and celebrity gossip as with its (then 24 year old) cousin,
Rolling Stone
, NME decided to try something new.
"We [tried] to invent an alternative scene - our own version of punk you could say - by forcing a coterie of new bands onto a cassette called C86. It's not entirely convincing and you should get out more if you remember
The Shop Assistants
- but it nails our colours to the mast. We, it said, for better or worse, are indie."
The Cassette featured exclusively independent artists, most of whom were not hugely popular at the time. While C86 came to be a genre rather than a literal tape, some of the bands on the original compilation were neither janglepop nor twee (ie. not all the bands on C86 were C86). Examples being
Primal Scream
's Velocity Girl or
Stump
's "Buffalo". Regardless, C86 was the cassette that launched a genre (rather than just recognizing one).
Says the freakishly well-informed uau of
Freeway Jam
, "C-86 was an extraordinary release; most of the bands had been unknown prior to its issuance, but taken together they resembled a scene. Almost every one of the groups that appeared on C-86 were short-lived, but in their wake, newer indie bands on both sides of the Atlantic began experimenting with this airy, tuneful style."
Tom of
Indie-mp3
whose tag-line is "Keeping the C86 alive" points out another distinction between the current twee pop and indie music scene and the C86 scene: politics. Unlike many of the C86 groups, indie music right now is rarely political. Personally, I prefer my music sans politik. Politics and music make for sloganeering, good protest chants, and propaganda, but not intelligent debate. That said, music remains the perfect visceral outlet for frustration, anger, or apathy born of perceived political disenfranchisement. "At this time, the NME was a socialist music paper in all but name," Tom explains in his C86 overview. He goes on to further link the politicization to Thatcherism, but I'd argue that there are as many, if not more, reasons for a band to be political today. Though that's likely every generation's claim.
In writing this, I've relied on more than a few quoted references. Hopefully this makes me look credible and journalistic, and not confused and lazy. I've also avoided actually describing the music. This was not unintentional (i.e. this was intentional). I'm no good at it. This sometimes makes having a blog with a primary purpose of music description a bit tricky. I've never claimed it was a useful blog. Essentially, C86 is poppy but underproduced. Doesn't that describe all indie pop? Well, yes, but.. um . . . this stuff is, uh, jangly too. And old.
This is the complete Track Listing as it appeared on the original C86 release:
Side A
1. Primal Scream - Velocity Girl
2. The Mighty Lemon Drops - Happy Head
3. The Soup Dragons - Pleasantly Surprised
4. The Wolfhounds - Feeling So Strange Again
5. The Bodines - Therese
6. Mighty Mighty - Law
7. Stump - Buffalo
8. Bogshed - Run to the Temple
9. A Witness - Sharps And Sticks
10. The Pastels - Breaking Lines
11. The Age of Chance - From Now On This Will Be Your God
Side B
1. Shop Assistants - It's Up To You
2. Close Lobsters - Firestation Towers
3. Miaow - Sport Most Royal
4. Half Man Half Buiscuit - I Hate Nerys Hughes
5. The Servants - Transparent
6. The MacKenzies - Big Jim (There's No Pubs In Heaven)
7. Big Flame - New Way (Quick Wash And Brush Upon Liberation Theology)
8. We've Got a Fuzzbox and We're Gonna Use it - Console Me
9. McCarthy - Celestial City
10. The Shrubs - Bullfighter Blues
11. The Wedding Present - This Boy Can Wait